The City of Churches, Adelaide is known for its beautiful architecture, and a blend of small-town charm with all the amenities of a bigger city. However, a lesser-known drawcard is its array of world-class golf courses, befitting the laid back lifestyle that locals love!
Conveniently, many of these golf courses are clustered around central Adelaide and it's outer suburbs, making it an ideal location for lovers of the sport. The proximity of these courses to the city also means they are suited for a range of experience levels, from novices all the way through to professionals. We've compiled a collection of some of the best golf courses in Adelaide to help you plan your next getaway.
Royal Adelaide Golf Club
Consistently ranking as one of the top 10 Australian courses, Royal Adelaide is considered by many to be the region's premier course. It's been host to global acclaim and has featured in a number of international listings (the 14th hole was ranked as one of the top 100 in the world!). A comparatively open links course, golfers are welcomed and encouraged to take on the challenge of this rolling, majestic course.
One of the more unique features of Royal Adelaide Golf Club is that a train track passes through the course. For visitors the opening tee shot can be intimidating as a train passes you no more than 10 meters from the opening tee box! With an emphasis on giving its members and guests a memorable experience, the club boasts an array of high-quality facilities, including a restaurant serving breakfast, lunch and dinner.
Designed by H.L. Rymill, C.L. Gardner and Dr. Alister MacKenzie
Length 6,572 m (7,187 yd)
Par 72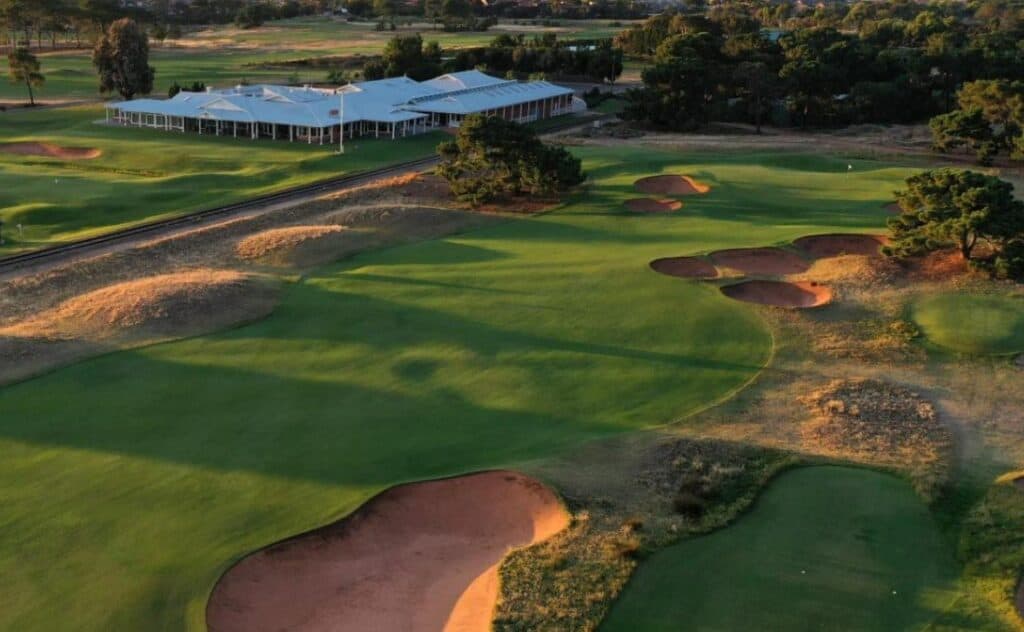 Kooyonga Golf Club
Rated number 25 in Australia and with five Australian Opens, nine South Australian Opens and eight Australian Amateur Championships under its belt, Kooyonga Golf Club is a heavyweight in the Adelaide golf scene. A great example of a traditionally designed course, there have been consistent upgrades and tweaks to the original layout to improve playability while maintaining the original integrity and feel of the course.
Close to the beach and with a modern clubhouse (with all the traditional twists you would expect), taking in the sweeping views of the fairway on one of their well-appointed terraces is sure to be a highlight of your visit.
Designed by H.L. Rymill
Length 6,308 m (6,899 yd)
Par 72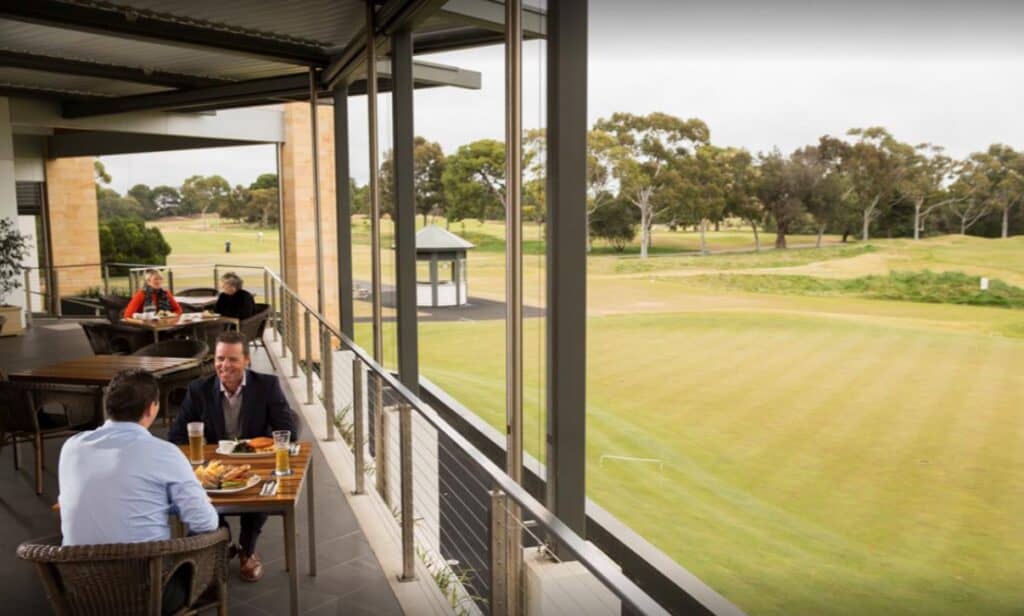 The Grange Golf Club
The Grange's commitment to excellence is evidenced by the regular upgrades and re-designs, with the most recent completion on their East Course in 2012 by Greg Norman Golf Course Design. This championship layout is sure to challenge and excite golfers of all levels, with their West Course being reported as equally thrilling (having been completely redesigned in 2007 itself), making it a worthy inclusion in our Adelaide Golf Tour.
Award-winning function venues also make The Grange a destination for corporate golf retreats, weddings and a variety of other occasions. One thing is for sure, with incredible facilities and not 1 but 2 Top 100 golf courses, the Grange is one of Australia's best golfing complexes!
Designed by Vern Morcom
Length 6,278 m (6,865 yd)
Par 72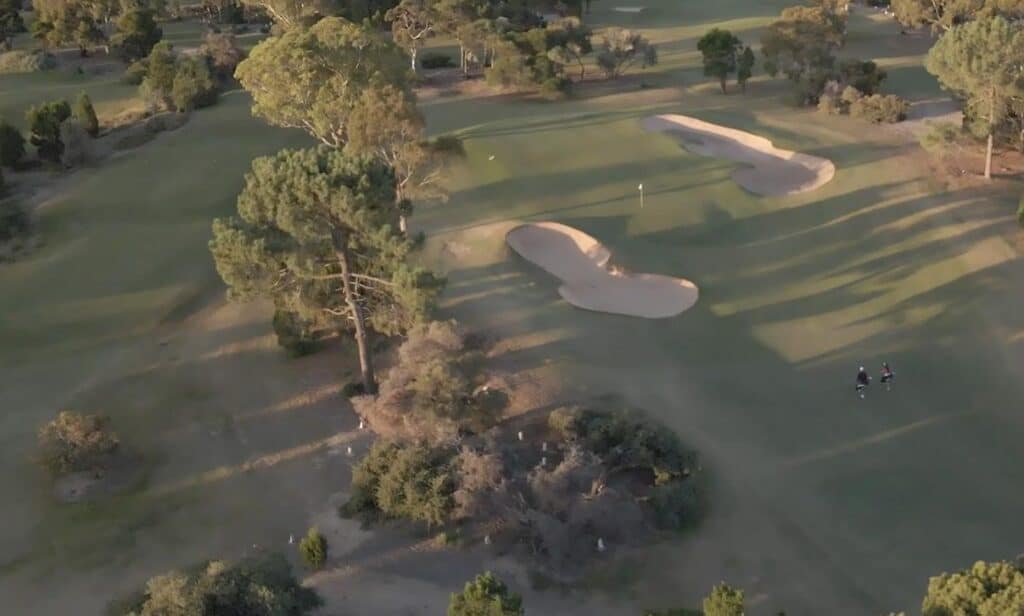 Glenelg Golf Club
Another nationally acclaimed course, currently one of the top 40 courses in Australia, Glenelg Golf Club sits in the beachside area, a short drive from the CBD. With a strong foundation in the community, the club's goals focus on sustainability and guest experience, with excellent hospitality and facilities.
The course utilises the original landscape of the area to create a challenging series of naturally contoured elements with lots of natural vegetation.
Designed by Herbert 'Cargie' Rymill
Length 6,267 m
Par 71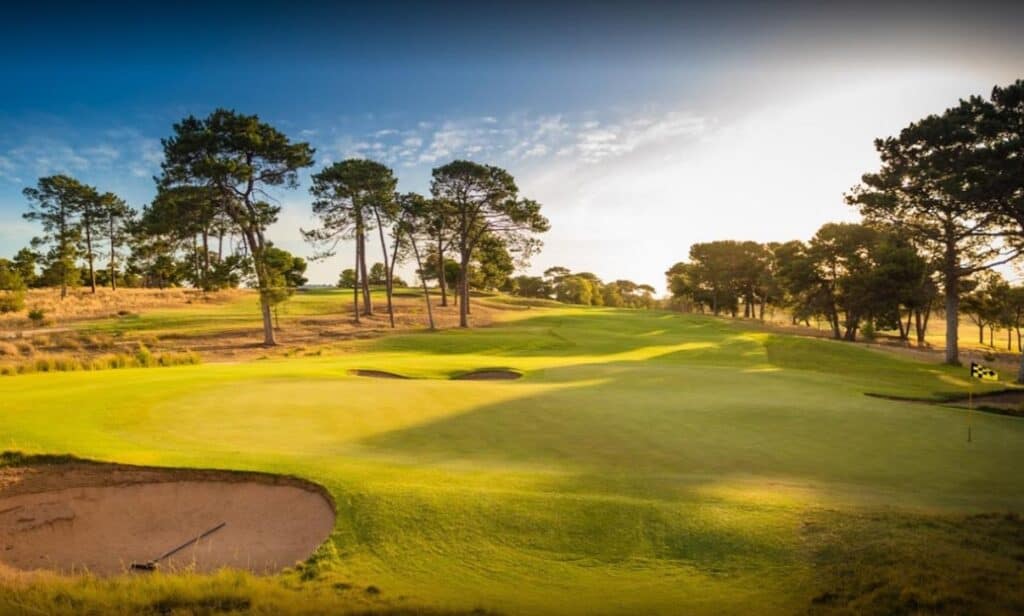 A short drive from Adelaide…
Mount Compass Golf Course
Located in the heart of the Fleurieu Peninsula, the Mount Compass golf course is an easy 50 minute drive from the Adelaide CBD. The biggest mover of the 2020 Golf Digest Top 100 list, Mount Compass improved by 26 spots, now ranked the #73 course in the county. Originally the site of a Sand Mine, this extremely picturesque course offers superb greens, 89 bunkers and an incredible risk and reward layout, enticing golfers of every level. Mount Compass is a South Australian must!
Links Lady Bay
Situated on the cusp of the magnificent Lady Bay adjacent to the seaside town of Normanville you will find Lady Bay Hotel and the championship Links Lady Bay Golf Course. Designed by Newton, Grant and Spencer, the course boasts gently undulating couch fairways and vast, smooth and subtle Bent greens. The hardest rated golf course in South Australia, Links Lady Bay's Blue Tee's hold a slope rating of 140! A challenge well worth the hour drive from Adelaide.
If you're curious about the range of escorted tours available of Adelaide's golf clubs, Fairway Golf Tours will be able to suggest excellently planned and convenient options.